The Healthiest Leafy Green Vegetables and their Nutrition Facts.
Green leafy vegetables are healthy foods that can help complete a balanced diet. They are typically rich in nutrients and fiber and low in calories and fat. Green leafy vegetables, also called dark green leafy vegetables, leafy greens, or greens, are edible plant leaves. A person can eat some leafy greens raw, while others may require cooking. As the name implies, people can typically identify these vegetables by their green color and edible leaves.
Some knowledge about green leafy vegetables and including nutritious:
Vegetables offer vitamins, minerals, fiber, and phytonutrients, all while being relatively low in calories. Science shows that vegetables are helpful for your health! In particular, research suggests that higher consumption of leafy greens is associated with a reduced risk of heart disease, type 2 diabetes, and several types of cancer. Yet, many people aren't eating enough vegetables! And, as a dietitian, I find that not only aren't people eating enough vegetables but they're also not getting a wide variety of leafy green vegetables either.
List of leafy greens Vegetables:
KALE
SPINACH
BEET GREEN
ROMANINE lettuce
FENUGREEK
KALE:
Kale is considered one of the most nutrient-dense vegetables on the planet due to its many vitamins, minerals, and antioxidants. For example, one cup (67 grams) of raw kale packs 684% of the Daily Value (DV) for vitamin K, 206% of the DV for vitamin A and 134% of the DV for vitamin C (2).
Calories: 43
Carbohydrates: 6.3 g
Sugars: 1.4 g
Fat: 1.4 g
Protein: 3.5 g
Fiber: 4.7 g
LEAFY CABBAGE:
Cabbage is formed of clusters of thick leaves that come in green, white, and purple colors. It belongs to the Brassica family, along with Brussels sprouts, kale, and broccoli. Vegetables in this plant family contain glucosinolates, which give them a bitter flavor. Animal studies have found that foods that contain these plant compounds may have cancer-protective properties, especially against lung and esophageal cancer Source). Another benefit of cabbage is that it can be fermented and turned into sauerkraut, which provides numerous health benefits, such as improving your digestion and supporting your immune system. It may even aid in weight loss.
Calories: 22
Carbohydrates: 5.2 g
Sugars: 2.9 g
Fat: 0.1 g
Protein: 1.1 g
Fiber: 2.2 g
SPINACH :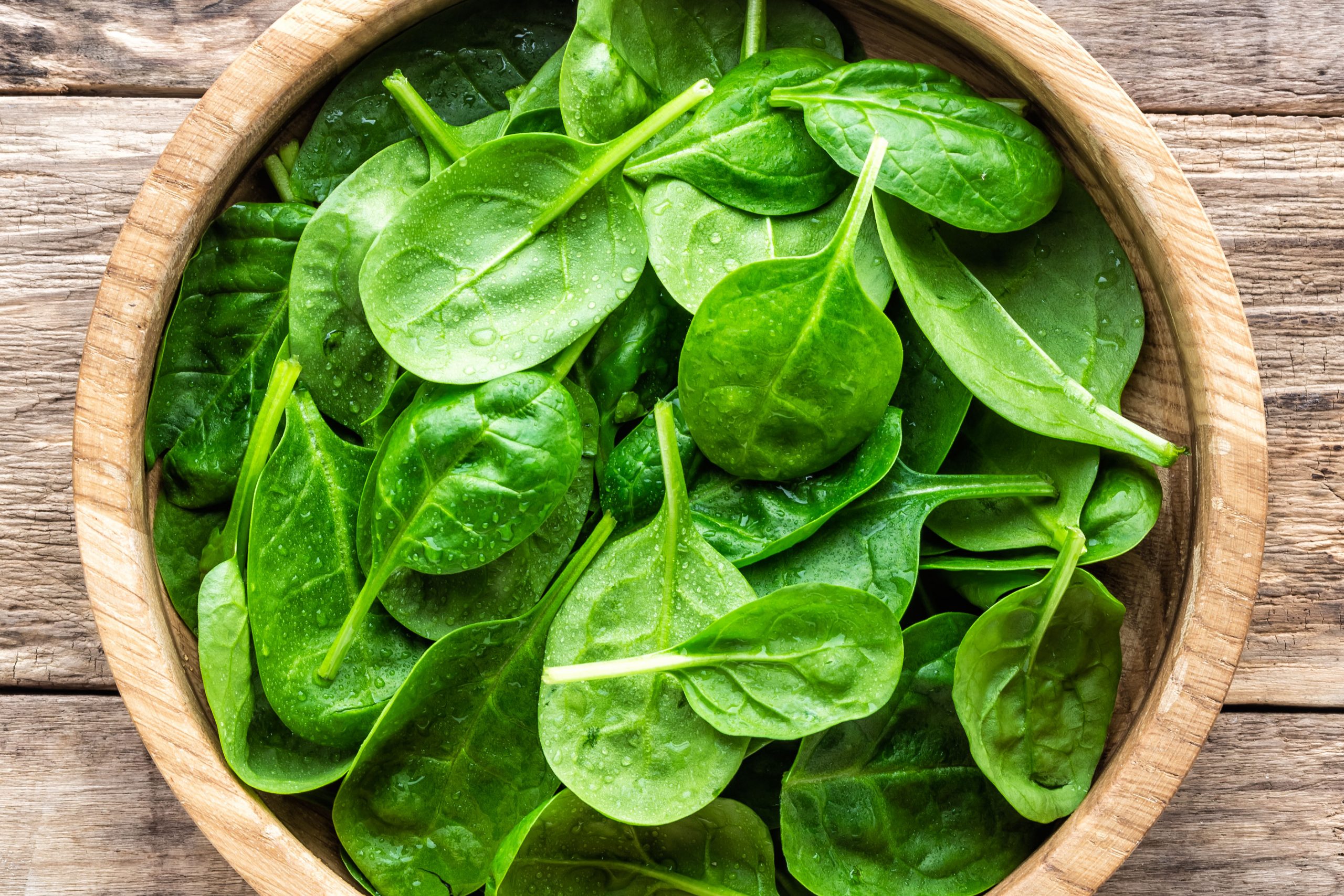 Spinach is a popular leafy green vegetable and is easily incorporated into a variety of dishes, including soups, sauces, smoothies, and salads. It's also packed with folate, which plays a key role in red blood cell production and the prevention of neural tube defects in pregnancy (10Trusted Source). One study on the neural tube defect spina bifida found that one of the most preventable risk factors for this condition was a low intake of folate during the first trimester of pregnancy. in one Cup:
Calories: 7
Carbohydrates: 1.1 g
Sugars: 0.1 g
Fat: 0.1 g
Protein: 0.9 g
Fiber: 0.7 g
Romaine lettuce:
Romaine lettuce, or cos lettuce, is a salad favorite for its crispy, mild-flavored leaves. It is high in antioxidants, which can help eliminate free radicals, boost immunity, and protect against cancer. It also contains potassium, an important mineral for heart health, and beta carotene, which is essential for eye health. Beta carotene may help prevent macular degeneration, according to the National Institutes of Health. shredded raw romaine lettuce contains:
Calories: 8
Carbohydrates: 1.6 g
Sugars: 0.6 g
Fat: 0.1 g
Protein: 0.6 g
Fiber: 1 g
BEET GREEN :
Beet leaves are edible and have an earthy taste. People can add them to salads and soups or saute or steam them for a side dish. They are rich in nutrients, including antioxidants. They also contain the antioxidants beta-carotene and lutein, which may reduce the risk of eye disorders, such as macular degeneration and cataracts. raw beet greens contain:
Calories: 8.4
Carbohydrates: 1.6 g
Sugars: 0.2 g
Fat: 0.1 g
Protein: 0.8 g
Fiber: 1.4 g
FENUGREEK
Fenugreek has benefits for lowering blood sugar levels, boosting testosterone, and increasing milk production in breastfeeding mothers. lower inflammation, and help with appetite control, but more research is needed in these areas.
Iron: 33.53 mg.
Calcium: 176 mg.
Sodium: 67 mg.
Potassium: 770 mg.
Copper: 1.11 mg.
Magnesium: 191 mg.
Phosphorous: 296 mg.
Zinc: 2.50 mg.